October 17, 2019 is a very special day for DIVI Themes users…
And for WordPress designers, freelancers, bloggers and website owners who are using (and planning to use) Divi themes by Elegant Themes dot com.
It's because you can NOW implement sitewide changes or global changes to your website because DIVI is now a THEME Builder.
Yes, the latest version of DIVI Themes (4.0) is NOW LIVE!
Divi Theme Builder 4.0 by Elegant Themes
What's the difference between the old versions of Divi Themes and with version 4.0+?There's a lot actually.Previously, if you wanted to change how a specific post or page would look like, you'll have to be content with how your theme is designed. If you know how to write code like HTML and CSS, you can obviously change how your entire WordPress theme can look, but if you're NOT a coder, then your options are limited.
This is why, easy to use, WordPress themes like ASTRA PRO and Elementor PRO have become very popular is because they allow design and editing of the main theme to be done by any person easily, even if they have no coding experience.
Divi Themes is one of the most popular WordPress design building theme out there and this feature is something that a lot of people (including myself) have been requesting for a very long time.
Now that the Divi Theme Builder is LIVE, we can now start designing GLOBAL templates using the Drag and Drop functionalities of DIVI.
You'll now have FULL control over the ENTIRE design of your website.The NEW Theme Builder has included Dynamic Content, Woocommerce modules, and all the capabilities of DIVI so you could focus more on designing your website and launching it, than tweaking and writing code, CSS and HTML for customizations.
The BIG question is this, Is Divi 4.0 with the latest theme builder a GAME Changer? I'll let you know in the SUMMARY section below.
But first, let's dive right inside DIVI 4.0 (and install it on one of my NICHE SITES that I'm planning to redesign for quite some time).
3 Main Areas Inside Divi Theme Builder
Once you've installed Divi Theme Builder, you'll be able to access the Divi Theme Builder options when you go to the left side dashboard of your WordPress membership area. Go to DIVI > Theme Builder to find these options:
Everything Can Be Edited
With the NEW Divi Theme Builder + the Drag and Drop customization features of DIVI, everything can NOW be edited
The great thing about this is you can edit a Theme Template and apply it to different posts templates, woocommerce product pages, and more!
Import and Export Theme Builder Packs
One of the things that I liked about the NEW DIVI Theme Builder is the ability to import and export pre-existing designs on your website.
I can create a DIVI THEME Template, export it and share it with anyone who uses Divi 4.0.
Alternatively, since the NEW Divi theme was just launched, the makers have provided us with 6 FREE Divi Theme Builder Packs.
Free Theme Builder Packs To Download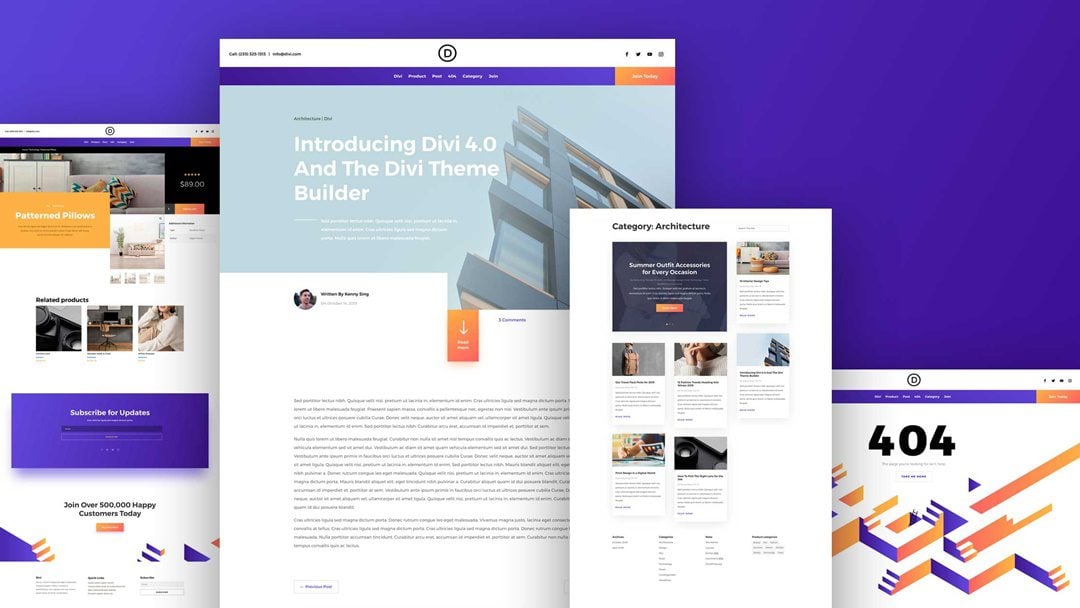 First FREE Divi Theme Builder Pack – Download Here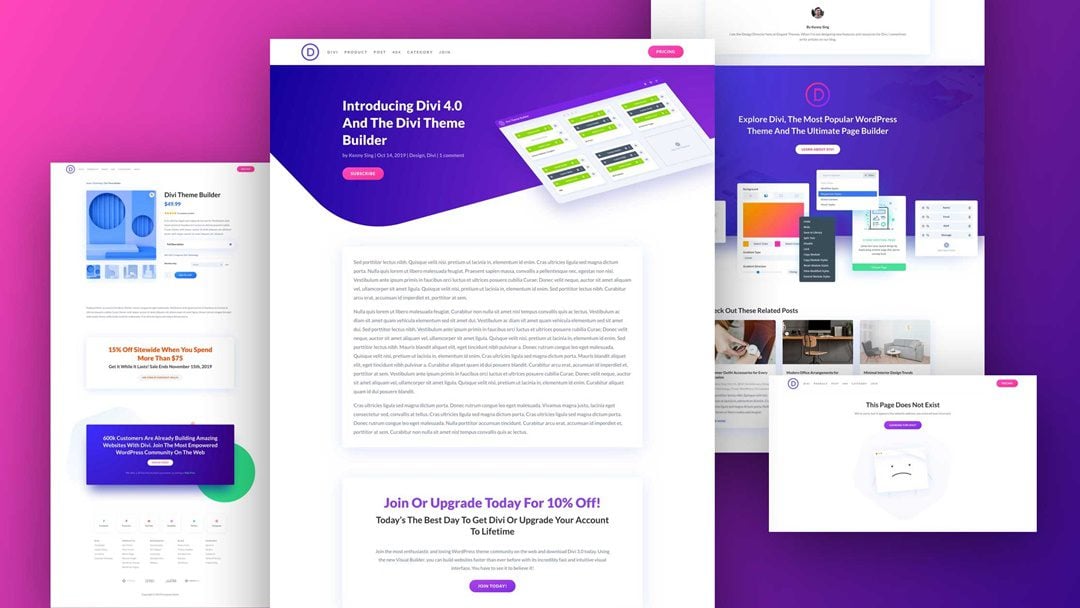 Second FREE Divi Theme Builder Pack – Download Here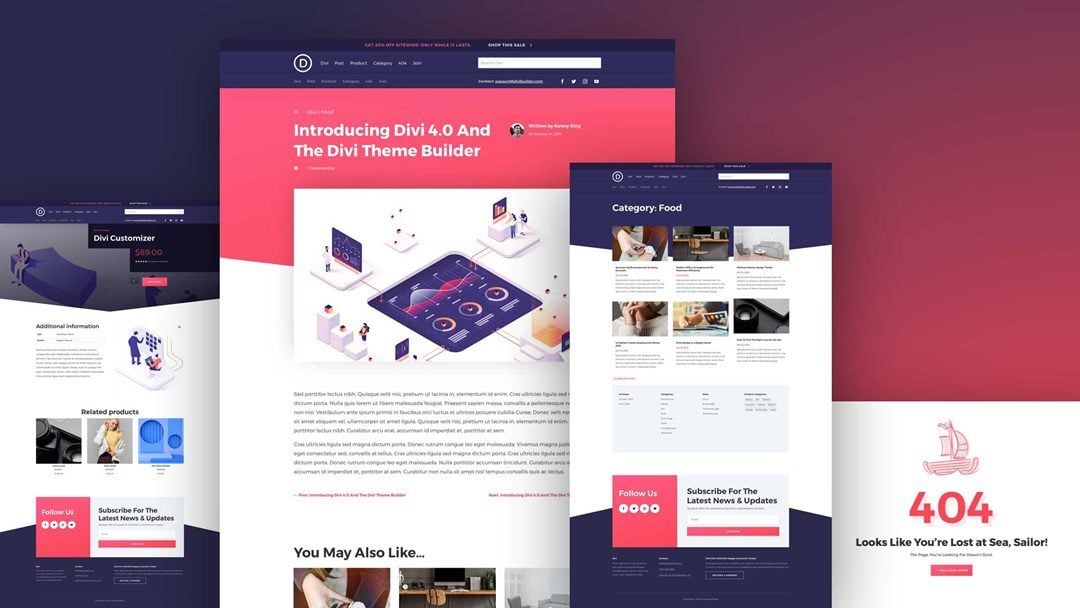 Third FREE Divi Theme Builder Pack – Download Here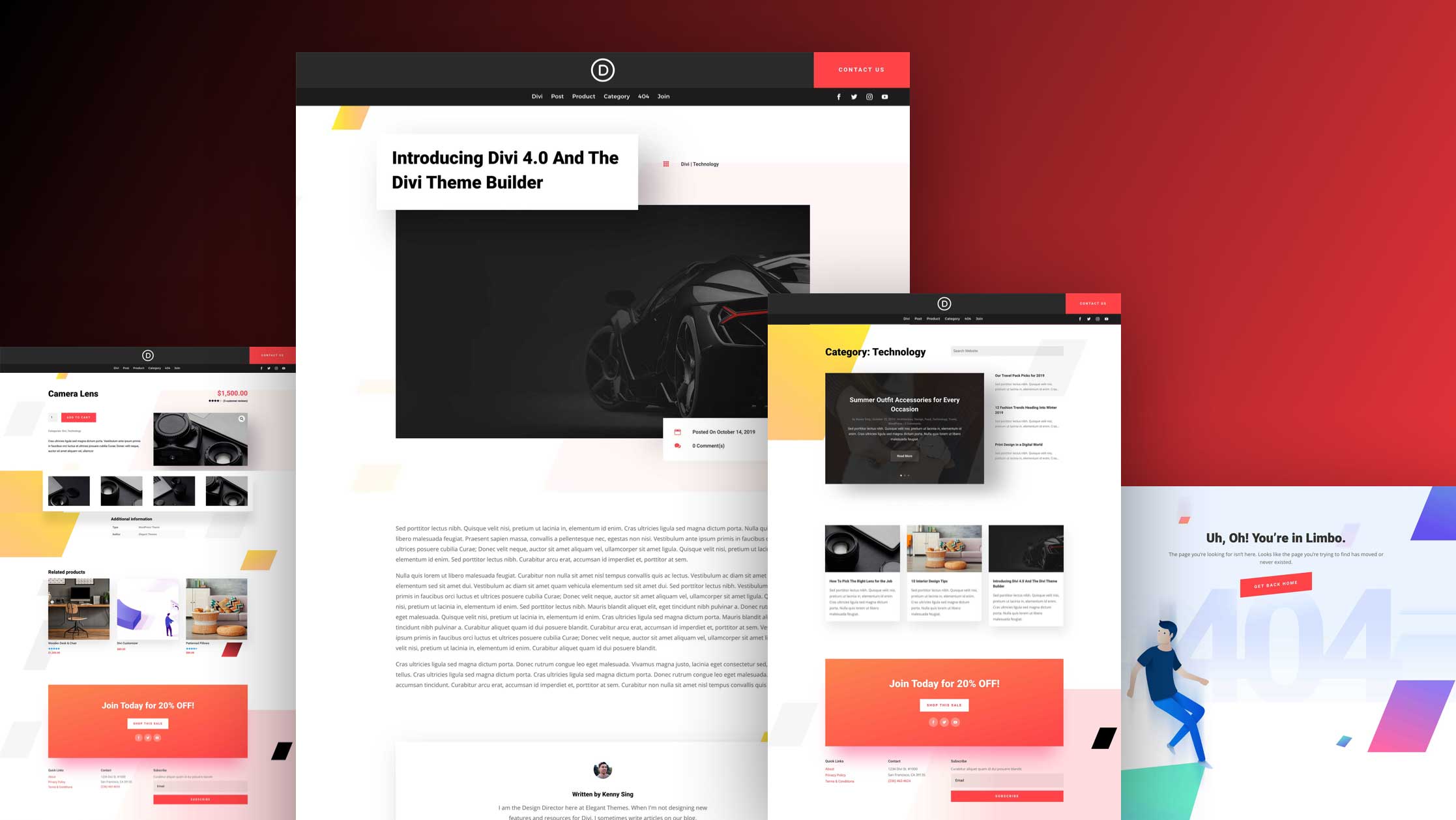 Fourth FREE Divi Theme Builder Pack – Download Here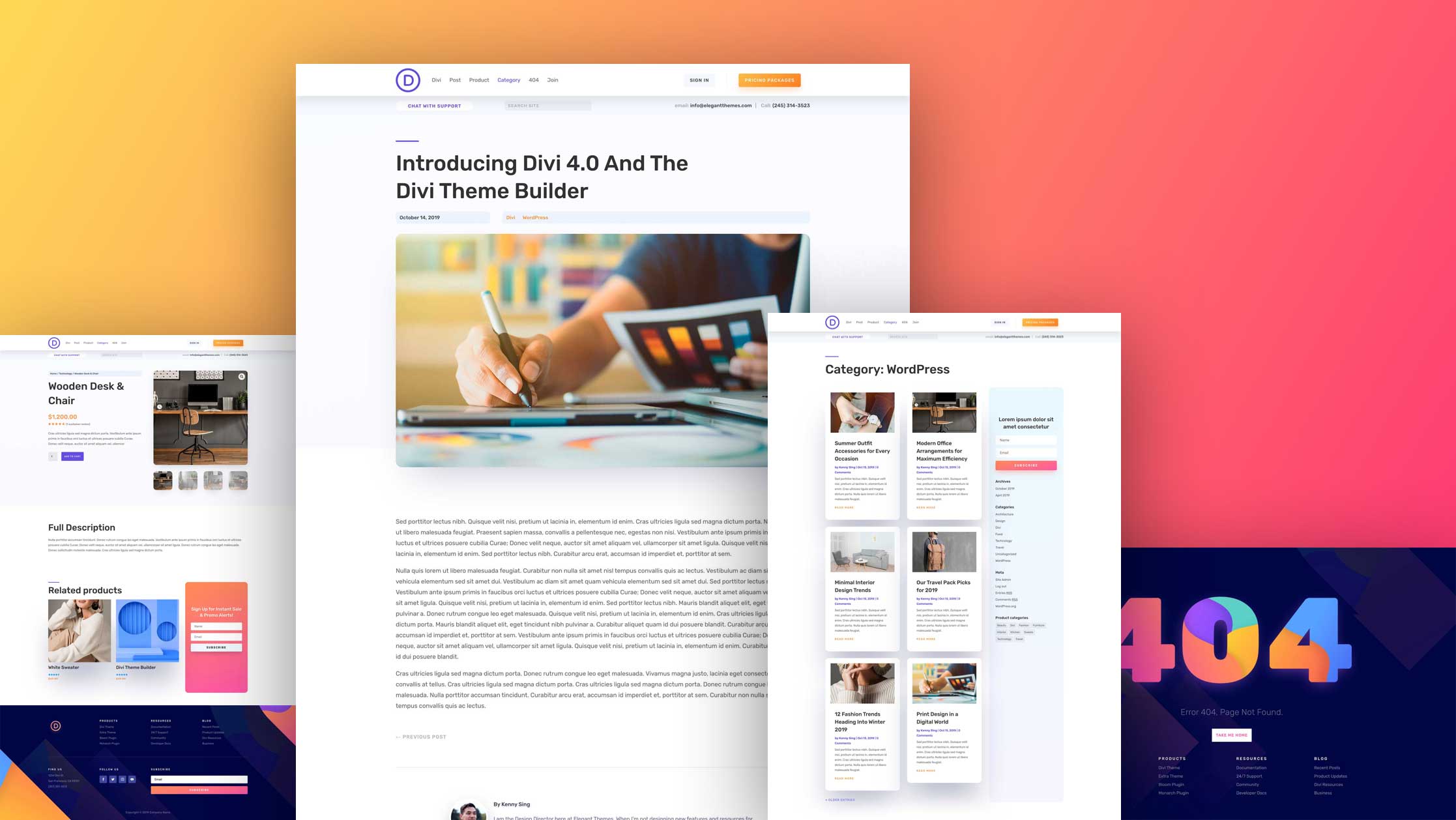 Fifth FREE Divi Theme Builder Pack – Download Here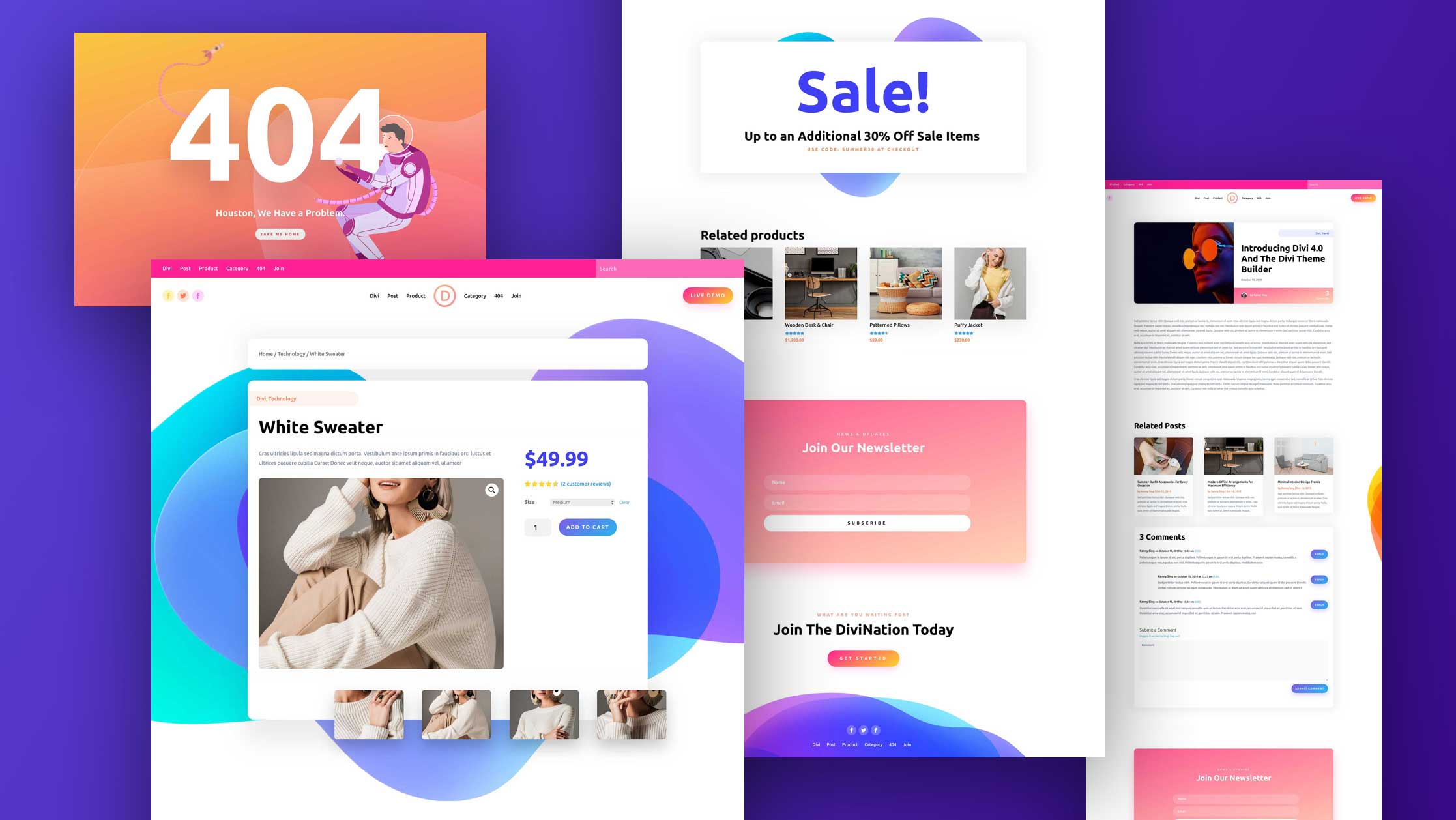 Sixth FREE Divi Theme Builder Pack – Download Here
Custom Design Headers and Footers
Have you ever wondered how the top WordPress designers are changing the look and feel of headers and footers without ever writing code.
With Divi 4.0 Theme Builder, this is NOW possible. When you create a global template for headers and footers, you can control where those customizations will show.
You can choose to show the edits on "ALL POSTS" only, specific categories, Woocommerce pages and even individual pages.
Site-wide Posts and Pages Templates
As I've mentioned previously, you're not limited anymore with how you design specific or all posts and pages.
With the NEW Divi Theme Builder, just set a GLOBAL HEADER, BODY and FOOTER that can be triggered where you want them to show.
Woocommerce Product Templates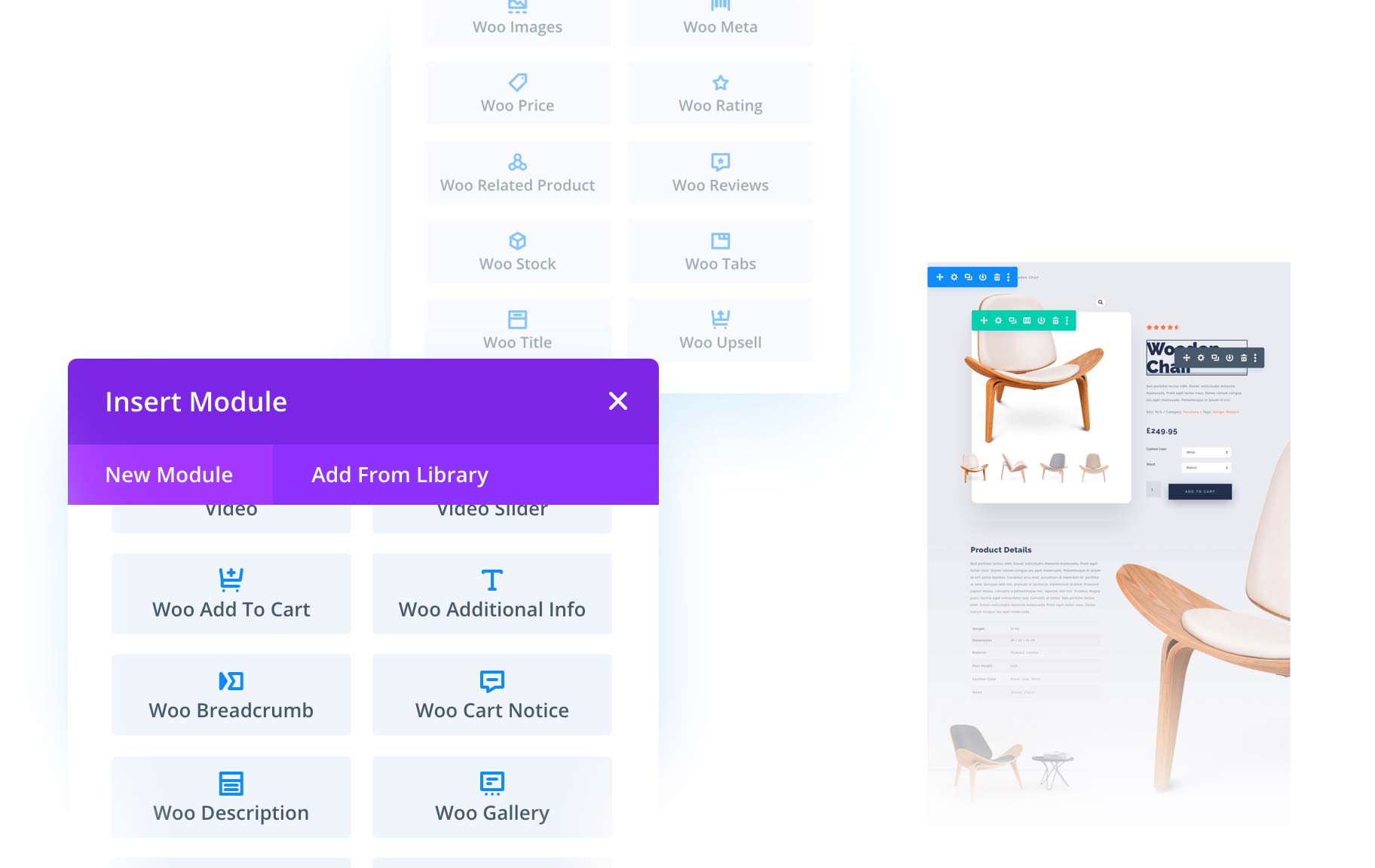 If you have an ecommerce website, you might have found out that you're limited with the design of your product pages based on what your default template does.
But not anymore with the NEW Woocommerce Product Templates. What I love about this feature is that I don't HAVE any limitations on how I design my ecommerce website.
This can also help improve the conversion rates of my website because I can now precisely design and change how it looks without the need for hiring a developer or coder.
Woocommerce Modules
It's very easy to redesign and reconfigure how your ecommerce website would look like because of the Woocommerce modules that are NOW available in Divi 4.0
There's an Add To Cart, Gallerey, Cart Notice, etc and you'll find them with "WOO" in the modules sections.
Custom Category Pages
With the NEW Divi 4.0 Theme Builder, you can now also change the look and feel of your category pages. If you have tons of content on your categories, you might want to change how it looks because it can help your readers navigate your content much better.
404 Pages and Everything Else
404 pages are error pages on your site that is shown when someone lands on an URL that is none existing, hence the name 404 error pages.
Editing these pages, used to be difficult, but with the Theme Builder, you can easily create a layout that's specifically just for 404 pages.
The Power of Dynamic Content
Part of being able to design Website templates is making sure that the right Title, Featured images, content etc would be specific to the post or page.
This is achieved by selecting Dynamic content when creating your Theme Builder. In Divi 4.0, you'll know that it's dynamic content when the option is found on the upper right discs and select the right dynamic content for you.
Divi Child Themes
There are numerous ways to enhance your website design with Divi. And one of the most popular ways before the DIVI Theme builder is to use Child Themes.
These are themes that can be used in conjunction with the MAIN theme: Divi Theme. Hopefully with the NEW Divi Theme Builder, you can create your own designs and child themes with ease.
Examples of Sites Using Divi
Because Divi Themes has been installed for over a half million websites (600,000+), there's no shortage of website examples that are using Divi.
Here are some of the websites on the Divi Customer Showcase page:
Divi Customer Showcase
Divi Themes Templates
You can also use the Divi Templates available in the Library. Just make sure that you connect your username and API key for Divi Themes (can be found inside your account) so that you can download these PRO templates to your website.
Divi Templates
How To Use Divi Themes Builder
Here's a video from the makers of Elegant Themes and Divi 4.0 on how to use the NEW Theme Builder. Enjoy!
Designing and Changing Fonts Inside Divi
It's very easy to change the fonts inside your DIVI account. You can do this globally or you can specify the different fonts per element.
This allows for customization ANYWHERE on the site.
How To Migrate To Divi Themes
Whenever I migrate a new website to a new THEME or a NEW host, I always create a BACKUP just in case something goes wrong. This would allow me to be able to revert back easily.
Depending on the complexity of your website, I might want to use a STAGING server first. A staging server is an exact MIRROR of your website right now. You edit and update changes on the staging server and when everything looks good, you PUBLISH those changes on your LIVE website.
Staging servers do require additional resources, so make sure that your WordPress hosting has staging capabilities before you even consider this route.
My Divi Themes Bonuses
I'm still updating and creating my bonuses for Divi 4.0. I want to be able to provide more value to your purchase. Sign up for my newsletter and email notifications if you want to get notified of my updates to Divi 4.0 and my bonuses.