8+ Best Email Marketing Services
Building your email list is the best asset you can do for your online business. I'm constantly testing out new software and here's what I've found out to be th best of the best when it comes to email marketing.
A True marketing automation platform. Simple to use and GUI is clean, easy to navigate. 1-on-1 onboarding and technical setup when needed. Flexible service with affordable rates.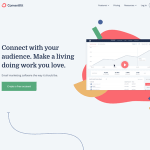 This is an email marketing system built by blogger and course creators for bloggers and course creators. It's simple, straightfoward and affordable. Perfect for most people's needs.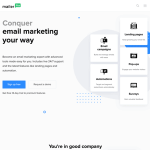 A major competitor for Mailchimp. Mailerlite has a free plan with light branding for people who wants to try it out. Simple, yet powerful email marketing platform. Very affordable pricing.
Getresponse is one of the oldest email marketing platforms in the business. They are friendly for affiliate marketers and they have new features like Autofunnels, Webinars and more.
I'm a Drip Certified PRO and it's one of the most powerful, tag-based email automation systems today. Lots of integration. Best with Leadpages.
Constant Contact has been one of the longest running email marketing services. They have solid delivery, intuitive email builder and best for small to medium sized businesses.
The all-in-one bundle provides more than just email marketing. It includes chatbots, live chat, calendar scheduling, website tracking and more. Free plan available.
There is a Free plan without branding for 1,000 subscribers or less. It has the ability to create automations based on lists and fields, but no tag based system.
Disclosure: My work and this site are supported by affiliate commissions, so I may earn a commission if you decide to sign up later from one of these platforms. Thank you! More info here.
I've written in-depth reviews of dozens of internet marketing tools – and this is my latest guide for those looking for the best solution that would fit your needs.
My name is Ryan Cruz, and I've been a digital marketer since 2010, working for local businesses and small businesses here in North America.
You would have found this article by searching on Google or in social media. 
Nevertheless, 99% of the time, I've tried these email marketing platforms with my own paypal funds and credit card – which helped me test, use, and identify the full scope of these tools.
Stats don't lie.
In 2019, global email users are around 3.9 billion (that's more than half the world's population) and it's projected to jump 4.3 billion by 2023.
Tapping into just a small percentage for your business can definitely be life-changing for your business.
Email marketing is still one of the top if not the best channel when it comes to driving more sales and conversions.
Just look at this article where it shows that for every dollar that you've spent, you've earned around forty-four ($44).
Picking the right email marketing service provider is important as changing email marketing providers later on can become a costly and timely mistake.
Here are my top Email Marketing Service Providers that I recommend…
ActiveCampaign currently has 100,000+ customers in 170 countries so it's not a new email marketing software in the industry. It has CRM, pre-built automations, marketing automations, machine learning, powerful segmentation capabilities, ability to create a Facebook custom audience from your segment, and prices starts at just $9/month.
You can easily create a share URL for the marketing automations that you've created making it a powerful way to share your ideas to your readers and people outside your account. As a blogger, this is a powerful way to create email marketing automation templates that you can sell or share to other website owners and entrepreneurs.
One of the things that I've loved about ActiveCampaign is that the visual mapping of your email marketing automations makes it so EASY to create marketing automation sequences that makes sense. 
The interface of ActiveCampaign is also clean and intuitive and will not confuse you on where to go as it gives links to everything important in growing your email list. 
Also the Lite plan is more than enough to help any small business getting started with marketing automation. It just doesn't have the CRM, website tracking and custom audiences built into the Lite plan (those would be available on the higher tier plans).
BOTTOM LINE FOR ACTIVE CAMPAIGN
If you are starting on the lowest tier plan for ActiveCampaign, make sure that you don't really need the features that you won't be getting like CRM, Custom Audiences and Website tracking. I recommend going with the PLUS plan to get the most out of ActiveCampaign's powerful automation features.
You'll love the simplicity and minimalistic interface of Convertkit! Even a 10 year old can do professional email marketing with Convertkit's walkthrough and tutorials. 
You don't need to know any HTML or coding knowledge to be able to start drafting and creating highly converting email broadcasts and campaigns. 
The automation and tagging capabilities are not that powerful, but it's simple and useful enough for 90% of people who would like to use email marketing automation to grow their online business. 
Email marketing couldn't be any simpler with Convertkit. There's a FREE plan with limited capabilities. For example, the FREE plan doesn't have any automation or workflows available, only broadcast emails. 
Convertkit pricing starts at $29/month for 1,000 subscribers. 
One thing that seems to be lacking in Convertkit are the design features and templates so that you can customized your emails and how they look and feel. 
What you'll notice from most Convertkit users is how easy it is for them to send emails at the exact audience that they want. 
This is super important because the optin and email open rates of people have changed.
BOTTOM LINE FOR CONVERTKIT
With great deliverability rates, highly affordable pricing and super clean interface, Convertkit is a serious contender for the best email software in 2020.
Constant Contact was founded in 1998 in the United States. You can say that they are one if not the oldest company when it comes to email marketing so that doesn't come lightly because of how important email marketing is.
It deals with personal information, so you want a reputable company that has been in business for years so that you can be sure that you and your business is in good hands.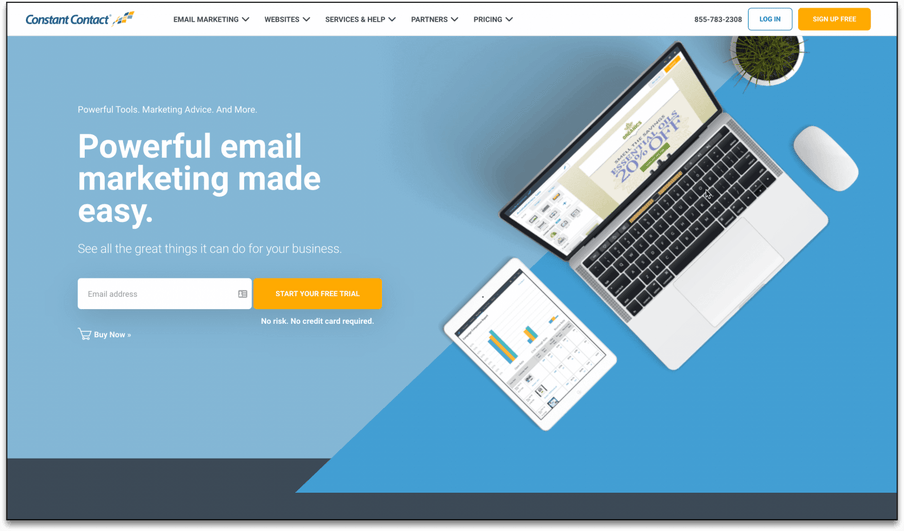 As such, it has been my favorite email marketing software to recommend, especially for small business and local business owners who need reliability and features that can help them grow their business.
Even if you're not a graphic artist or HTML designer, you can easily create gorgeous and highly converting emails or import any of the 100+ mobile-optimized templates that are ready to be customized for your needs.
And when you get stuck, support is just a chat or email away.
One of the things that makes Constant Contact stand out is that it includes a FREE intelligent Website builder
BOTTOM LINE FOR CONSTANT CONTACT
If you're a small business owner, a local business, or someone who is looking for a reliable email marketing platform with great deliverability, try Constant Contact.
Drip Email Automation *by Leadpages
When Leadpages bought Drip a few years ago, I think that was the right move for Leadpages, a landing page software company. The challenge with Leadpages was that it didn't actually have an email marketing platform built-in. 
Unfortunately, after being bought by Drip, they haven't fully combined your Leadpages and Drip accounts into one. You still have to pay for each one if you want to use both platforms.
Needless to say, Drip is very similar to ActiveCampaign when it comes to features and benefits. The good thing about Drip is that they have a Free plan with ALL the features, including the Custom Audience creation, Lead Scoring and integrations. 
It doesn't have a built-in SMS marketing option (you'll need a third party integration) for that, but with the Free $0 plan, you really can't complain. 
The downside is that the pricing jumps higher if you have more email subscribers. $49/month for up to 2,500 subscribers and then that jumps to $129/month to the next level. Read my full and detailed review of Drip.
BOTTOM LINE FOR DRIP EMAIL AUTOMATION
If you want a powerful email marketing provider with Facebook custom audience creation capabilities without integrating with third party tools, Drip (together with ActiveCampaign) are my top two choices right now.
Gist rebranded from Convertfox a few years ago. They've moved into just an email marketing software to an all-in-one marketing automation platform.
The interface can be a bit clunky and overwhelming as this would be the case if you're trying to cram every marketing automation feature into one single dashboard.
The universal inbox is a powerful way to streamline communications across your social channels, including your email. It also has a powerful live chat and chatbot feature with capabilities for event tracking and automation.
The more you use Gist, the faster and easier it is for you to create automation and segmentations. Gist is perfect for SAAS companies as well because of it's integration with ticketing, help desk, chats, etc.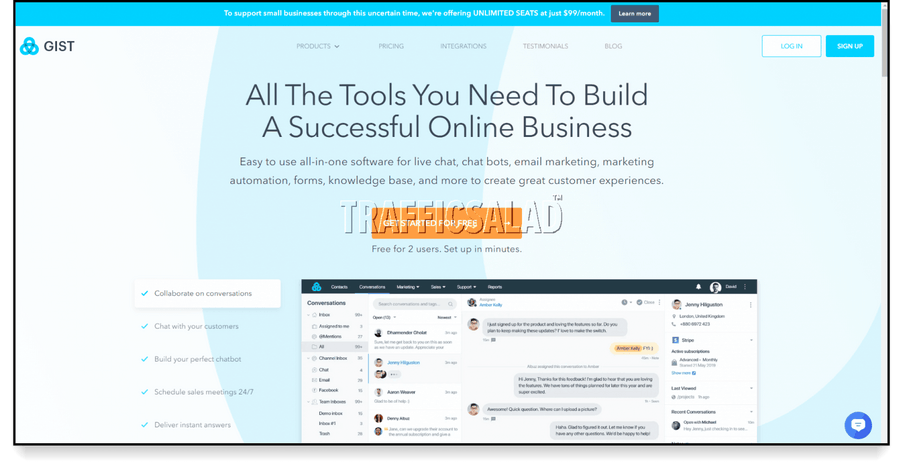 What I loved about GIST is that ever since they changed their name from Convertfox, they have been innovating and constantly improving the platform. 
They are constantly working to simplify the use of their tool and I could say that they are almost 95% to where I would like it to be as an email marketing automation platform. This is huge because for an email marketing company to constantly improve, shows how much they care for their customers.
But obviously if you have existing tools like Convertbox (for popups and personalized triggers), you might NOT want to use the features that Gist provides.
One of the main reasons is that some of the tools that you might be using will still be more powerful than what Gist provides. 
Good thing that Gist is integrated with convertbox so you can have the best of both worlds.
Gist is an innovative platform that is quickly going somewhere. But it has to be careful with adding too many features that can be overwhelming and bloated. If you're willing to experiment and test, definitely try out Gist.
Moosend is a new email marketing platform that's not really a marketing automation platform. Currently, you'll only be able to segment your subscribers via lists and not via tags.
The great thing about Moosend is that they have a FREE plan for up to 1,000 subscribers without any BRANDING. This is a great option for those who are just starting out and on a budget.
Although after testing the platform, I've noticed that the deliverability is not that great and my emails are ending up in the SPAM folder for platforms like GMAIL.
This is a big issue for me because if your emails are not being seen, it kinda defeats the purpose of sending emails in the first place.
After reaching out to the support team of Moosend, they've asked me to create DNS entries for DKIM and SPF entries that is connected to my domain name. This apparently would help with deliverability issues.
Moosend reminds me of Mailchimp + Getresponse as the interface and the features are very similar.  
Moosend has a free email marketing automation plan for 1,000 subscribers or less so if you're on a budget. Just make sure that you set up DKIM and SPF settings to make sure that your audience receives your emails.
Getresponse has an awesome support team, and have been in the email marketing business for quite a long time. It's one of the email marketing service providers that are friendly to affiliate marketers. 
So if you are planning to promote other people's products and have been booted out in other email marketing platforms like Mailchimp, then Getresponse is the perfect email marketing provider for you.
Getresponse has recently added several new features that I think are quite outside of their strengths and category.
They've recently released Autofunnels and Webinars as part of their offer in their pricing plan. But the lowest plans are limited to just 1 autofunnel and no customized workflows or automations.
In order to take advantage of the best features of Getresponse, you need to subscribe to at least the $49/month tier plan.
BOTTOM LINE FOR GETRESPONSE
If you're planning to use affiliate marketing or promoting other people's products  you need an email marketing service that's friendly for marketers. Getresponse is one of the email marketing service providers that's affiliate marketer friendly.
Mailerlite has been dubbed as a Mailchimp killer alternative as the features that you'd love in Mailchimp are pretty much available inside Mailerlite. Mailerlite provides a free plan (with up to 1,000 subscribers with branding). There's is nothing to dislike about this email marketing software, it's free forever (with branding) and a whole lot cheaper than a lot of it's competitors.
The only thing that I would consider it seriously lacking is it's ability to tag contacts and subscribers. You'll have to create Groups (also known as lists on other platforms) if you want to separate different subscribers based on their interests, sign up forms, engagement, etc.
Mailerlite provides a lot of email marketing automation features that are critical to any online business. 
It has landing pages, popups, surveys, automations, email marketing campaigns and a free plan for those who would want to try it out first.
There's almost a million (864,694 to be exact) customers worldwide who is using Mailerlite, so you can be sure that you're in good hands. 
One of the things that I really loved about Mailerlite is how simple their software is and how the emails that are sent works perfectly across many channels and all devices.
They also have 24/7 support with an average 5 min response time on live chat. Over 97% of their customers are satisfied in using their service. I've used Mailerlite here on Trafficsalad for a bunch of email marketing campaigns.
BOTTOM LINE FOR MAILERLITE
Mailerlite provides a little bit of everything, marketing automation email templates, landing pages and a FREE plan for 1,000 subscribers or less (with branding). It's a great alternative to Mailchimp if you're looking for an alternative.